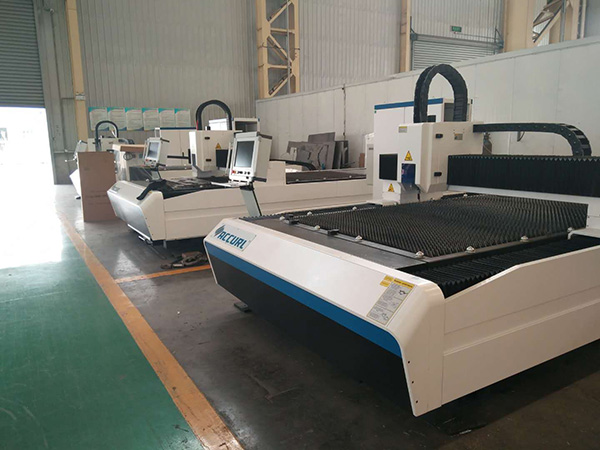 Overview
---
Mașină de tăiat cu fibre laser has high quality beam, high reliability, good optical mode, high top power, smooth incision, good perpendicularity, it is a special cutting machine, which is suitable for stainless steel,carbon steel, Copper, Aluminum, Mo to cut and punch, the cutting speed and incision are both high level, CYPCUT program can process any graphics and text, running stably, good processing quality, high efficiency, good precision, easy operation, convenient maintenance.
Specificație
---
500W Fiber laser source
* Auto Focusing Head from US
*Laser Power Supply
* High Precision Water cooling system
* Z- float Laser Cutting head
*High Precision Ball Screw CNC Worktable1.2*1.2M
*NcEditor Laser Cutting software and control Card
*Yaskawa driver from Japan
*Fume Extraction and Dust Collector System
*Air- dryer and Compressor (Optional)
Laser rated power: 500W
Laser wave length: 1070nm
Laser work material: fiber
Pulse frequency: 1-50Hz
Cutting format: 1200×1200mm
Z axis travel: 100mm
Top load of worktable: 200kg
Work current: 100-200A
Pulse width: 0.1-2ms
Beam divergence angle: ≤5mrad
Power instability ≤±5%
Accuracy: 0.05mm
Location speed: 18m / min
Cutting speed: 9m/ min(1mm stainless steel plate)
Top cutting speed: 8m/min(1mm carbon Steel with O2)
Repeat location precision: ±0.1mm
Cutting thickness:
stainless≤4mm
carbon steel plate≤5.0mm
copper≤2mm
aluminum≤1mm
Continuous work time: 24h
Minimum cutting width ≤0.1mm(material thickness 1mm)
Cutting worktable: Servo motor table ball screw CNC table
The whole power cost:10KW
Focusing mirror configuration: 3inch
Power supply:
3-phase
380V/50Hz/15A
Advantage
---
1. Excellent beam quality: Smaller focus diameter and high work efficiency, high quality.
2. High cutting speed: Cutting speed is more than 12m/min
3. Stable running: Adopting the top world import fiber lasers, stable performance, key parts can reach 100, 000 hours;
4. Eficiență ridicată pentru conversia fotoelectrică: în comparație cu mașina de tăiat cu laser CO2, mașina de tăiat cu laser cu fibre are de trei ori eficiența conversiei fotoelectrice.
5. Cost redus: Economisiți energie și protejați mediul. Rata de conversie fotoelectrică este de până la 25-30%. Consum redus de energie electrică, reprezintă doar aproximativ 20% -30% din mașina tradițională de tăiat cu laser CO2.
6. Low maintenance: Fiber line transmission, no need reflect lens, save maintenance cost;
7. Easy operations: Fiber line transmission, no adjustment of optical path;
8. Super flexible optical effects: Compact design, compact and easy to flexible manufacturing requirements.
Aplicații
---
It is used widely on advertising signs production, sheet metal structures, production of high and low voltage electrical cabinet, textile machinery parts, kitchen, auto, machinery, metal technics, saw, electrical parts, glasses, spring, PCB, electrical kettle, medical microelectronics, hardware, tools, etc.
Suitable material: stainless steel, carbon steel, alloy steel, spring steel, copperplate, aluminum plate, gold, silver, titanium, etc metal plates and pipes.
Technical Support
---
We are pleased to offer 24hr support for all of our products. We can offer driver and software download and support, spare parts, tutorials, service, etc. We're basically here to do as much as we can to help get you up and running as quickly as possible.
Please contact us,we will try to respond to you within 24hrs.
If your enquiry is of a more urgent nature, we invite you to contact us by telephone: (+86)-27-87611146. Technical Support is available in Chinese (Mandarin) or English.
FAQ
---
1.Q:What is the warranty of the machine?
A:Questt Lasers have a warranty for 1-2 years.
2.Q:Are you a factory or trading company?
A:ACCUR is a factory for 22 years.Got import and export License.
3.Q:How about the quality?
A:ACCURL Lasers Technology is from Germany.High quality best price.
4.Q:What is your after-sale service?
A:If needed,ACCURL offer door to door service !we can send engineers to your factory for assembling ,adjusting and training!
5.Q:How do i get technical support after purchasing?
A:Questt Lasers offer online service in English through Skype,WhatsAPP,Wechat or Email etc .If need remote operation,we can use TeamViewer software.
---